One For Each Backpocket
A couple of Backpockets I just finished up.Both are about 7-3/4" OAL with a 3-1/2" blade.
Both have 416 bolsters and pins w/410 liners.cresent nail knicks.
Both are flush in all the positions.Mill relieved liners.
One is dressed in stabilized camel bone with some file work,the other is dressed in stabilized redwood with a cut swege,
Thanks for looking and comments are welcome.
Stan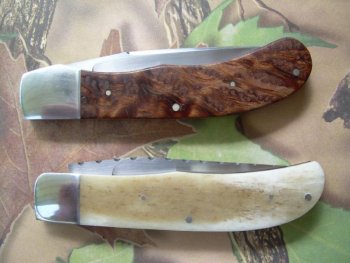 Last edited: