So this is part 3 of the photos and my learning experiences! This next one was my first request for a knife with full leeway on what and how to make it. The only thing I got was this was for his son that was in Afghanistan at the time. Now saying that if I had this one to do over with full latitude on it, today I would have taken it in different direction!!
This was my first with a makers mark on it. I have since changed the mark, although I still use the bear symbol on my sheaths when appropriate! This a first with nickel/silver bolster and pinned with nickel silver pins.
I still had not learned about the quality of the photo is everything as well as the quality of the makers mark is key!! This one had a clip front that was all but shaving sharp. I wasn't sure if he would be going back to Afghanistan but if he needed to stick something, I wanted the shape of the point as well as the sharpness of the point be able to do that!! It also has a finger coil.
The handle is Oak treated with a chemical to make it turn green on it!!
I was real proud of this one and showed it too my wife. Which as a good wife she said I like it. But I could tell she did not love it! So after a bit of prodding I got her to tell me it was the handle color she didn't like. I sweated that one till I delivered it and the guy loved it. In fact he told me he owed me more money as he wasn't expecting it to turn out as well as it did! I turned down the extra money and was glad he liked it as well as he did!!
The sheath is a first in doing a two part design on the face and is double sewn for strength. It also has a retainer embedded into the back leather of the sheath. It holds firm on the blade so the sheath can be worn as pictured or upside down or sideways on his web gear without fear of the knife accidently coming out!!
Here a while back I was getting pretty bummed about not turning out anything recently! I thought about scraping the whole thing. However I like making knives. So figured if I had things ready to do the finish of a knife maybe I could steal a minute here and a minute there till I got them finished! So I went out and selected six of this knives from the blanks I already have cut out! These are all 1080 and I am trying to put together everything I need to finish these six knives!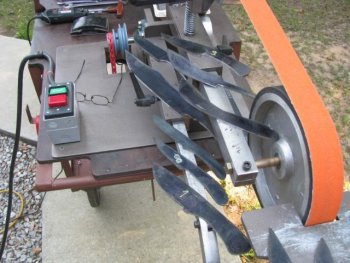 One of the six is the Bowie I posted about a while back. I have never drawn out what I was going to do till this one start to finish. Although I had it in my mind!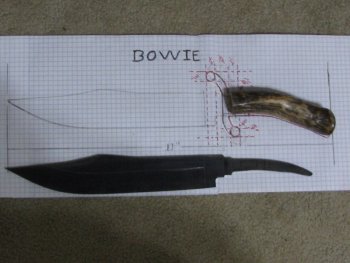 So here is the drawing and here is somewhat of it will look like!
And as any good knife needs a sheath here is a sketch of the finished sheath for it. I actually thought I had lost this drawing, till I started looking for these photos to post!
I have had it in my mind from day one what the sheath was to look like.
So here it is I am slowly working on those six knives! The way I have been working lately it may be a while before I complete any one of them! So if my experiences in fabricating, sewing leather, a lifetime of working with wood and knife making qualifies me for "armchair expert" then I suppose that is what some will call me! However I feel it all qualifies for offering advice where I can benefit others!! When I first started on this journey I was meant with a lot of hay newbie you don't need to ask dumb questions. However I learned a long time ago the only dumb question is the one you didn't ask! I have also asked some experts in the field about this and that because I want to continue to improve myself and I guess I was dumb enough to think they might want to share. I am too old now to make anything in this field but, what I do leave behind with my name attached to it. Well I want that to be the best that it can be, and if I can advise you on how not to make the mistakes I have made, I will!! Enough said!! You can take what you see and my words for what they are!!!
Last edited: