Matt Gregory and I have been talking about getting together and doing something for a while now. I think it came up after Blade Show this past year. So after a few phone calls and texts, we hashed out some plans and Matt was able to get some time this past week to drive over for a visit to my shop.
Matt mentioned that he would be interested to see how I make and assemble a hunting knife so we thought that might be a fun project. So, I designed something that was typical of my hunters and we built it together.
First let me say a few things about Matt. Matt is a lot of fun to work with. He's got a great attitude about work and life and has a great sense of humor. He's pretty willing to go with the flow and roll with any changes or obstacles that come along. Matt is an outstanding craftsman and his work ethic is stellar. Coming to anyone's shop, that's different from your own, and working to produce your normal level of fit and finish can be very difficult. Add to that, that Matt is left handed and I am right handed and everything is set up backwards for him and it throws another variable in the mix. Matt overcame all of these things with apparent ease. Matt's grinds, both rough and finished, are among the best I've personally seen. They are flat and even and as symmetrical as I would think the human hand and eye can make them.
We worked VERY well together and although our styles, in finished knives, can be quite different, our ideas of what is and isn't acceptable in a finished knife meshed perfectly together. Matt was more than anyone could ask for of a house guest and was kind and respectful and definitely pulled his weight with the knife and also helping out with meals, clean up and all of that. He cleaned my shop....top to bottom during some downtime (Thanks a TON buddy!!) and interacted perfectly with my wife and kids.
In addition to building the knife, we went for some walks in the oak woods checking out deer and deer sign, had some fantastic food. Matt brought a couple of smoked meatloaves that were outstanding. My good buddy Jeff Marsh dropped by with some fresh venison steak and tenderloin from a recent trip to Wyoming and kept us company for a day, helping out with pictures and such as we needed. Then we all sat down on Friday night to some smoked pork shoulder that Matt brought that to this minute I'm still craving more of. It was THE BEST thing I've eaten going back as far as I can remember.
Also, strictly in the interest of science, we diligently studied the effects of some seriously potent firecrackers on pumpkins, sugar beets and various members of the squash family. We may have a picture or video or two to add to the mix of our findings.
As far as the knife goes, I feel like I got the super easy end of the workload. Here's how the knife work shook out basically:
I used one of my designs for the build and I forged and rough profiled the blade. Matt rough ground the blade and shaped the tang where it needed to be and set up all the finished dimensions of the blade, ricasso and tang and finished them accordingly for heat treating. I cut the threads for the finial bolt on the end of the tang. We thermal cycled and quenched the blade together. Matt finish ground and hand sanded the blade while I flattened and paralleled the materials for the guard, spacers and wood for the handle. Matt hand sanded the blade and I did the etching/polishing cycles. Matt fit the guard and spacers and I fit the wood handle block. Matt rough shaped the fittings and I rough shaped the wood handle. Then Matt sanded and cleaned up the handle and went through all the polishing steps and I did the filework on the fittings, the spine of the knife, and the fuller on the butt end of the handle. Matt machined the steel finial bolt while I made the bolt cover button that matched the fittings. After all that, it was ready to assemble.
So....without too much more nonsense, here's a few pics and videos of what went on here over the last week: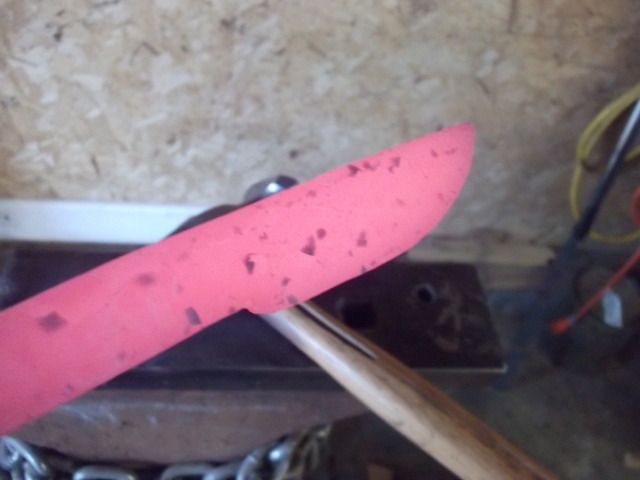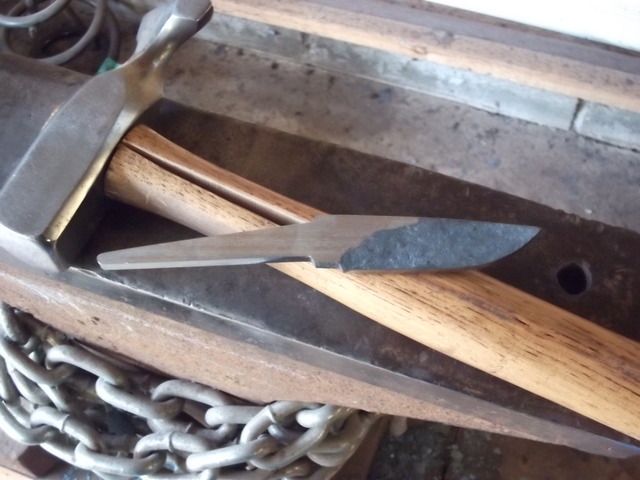 Here's the blade, pretty much ready to start heat treating: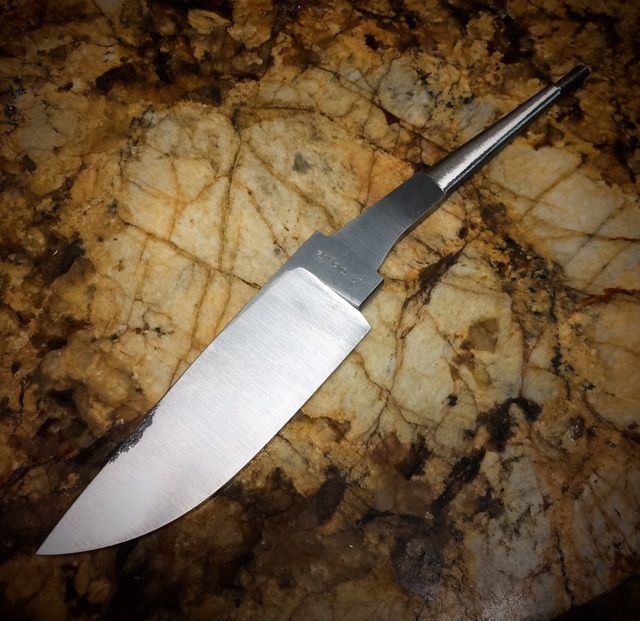 The blade coming out of one of the pre-quench thermal cycles:
Here's a video of the quench:
[video=youtube;e_Fjgw0S404]https://www.youtube.com/watch?v=e_Fjgw0S404[/video]