This is my new handmade tanto knife "Gladiator".
This product is fulltang version of american tanto, made from 90CrSi5
instrumental steel.
Blade's dimensions are 120x30x4.2 mm.
The descents on both sides are 12 mm straight, the reduction is 0.2 mm. Handle is 120 mm.
Weight is around 200 grams.
Fastening handle to knife on 3 screeds treated with cold iron.
Handle is made from Poliuritan.
The blade is treated with an oxide film.
Sheat is made from 2 mm kydex with US fittings, light suspension.
Zone of quenching of 90CrSi5 steel is 57-59 units.
Price - 110$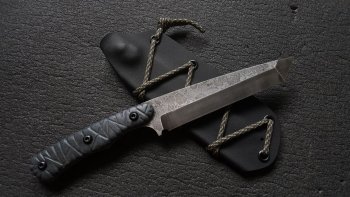 Shipping is up to 12$ max depends of your location