KnifeDogs.com & USAknifemaker.com Owner
Staff member
Read these rules at minimum...


1. If you enter and win, you have to get the kit finished off quickly (easy to do) and post pictures on the forums. If you can't do that, please don't enter.

2. Your reply to this message is your entry. DOUBLE YOUR CHANCES: One entry per day limit UNLESS you post something about a bali in one of your posts, ie: tutorial, video, WIP picture, bali picture(s). In other words, contribute with pictures, how to's, etc about bali's and you get to post twice a day to double your chances. If you are going to post pictures (good!), don't use the same one every time (bad). Then post two messages for the day to count as two entries.

3. Drawing will be our usual (transparent) Pick 3 lottery number.

4. Drawing will be in 3 weeks to allow chances to build up. Drawing based on 1/9/13 MN Pick 3 (or going through our other Pick 3 lotteries until a winner is selected)

5. If you enter the contest and decide to purchase a bali kit before the contest is over and win(!), you can get a refund on your purchase or simply take another kit....



Prizes...

2 styles of Bali Kits.

A full "frame" version and a "liner" version.

Here is a finished full frame version before and after. You can finish it anyway you want of course.

I did this one in about 4 hours with lot's of interruptions.
The full frame version you can see below, the liner version will be coming in a few weeks. You will have choice of scale colors and we will post several pictures of the liner version in this message when they arrive.
We started work on a Bali kit project a year ago.
When we started we said we were going to make the worlds most expensive bali kit. We didn't quite get there. In fact, these get pretty reasonable when purchased in quantity.

How much for one kit? $168.00

>click here to buy a bali kit<
Now when you are done saying we are crazy, let me tell you about it.
A single kit is $168.,
3 to 7 kits makes them $134.40ea
7 to 11 kits makes them $126
11+ kits are $117.60
We designed these for knife makers to buy in quantity, finish them off and sell them for high end custom bali's. We want you guys to make some money on these. If someone tells you a kit is not a custom I can tell you they are wrong. There will be several hours of work left in these kits. We have just pulled together a great design with high quality parts and precision fabrication to get you a nice head start on what can be a very nice bali.
These are .155" thick titanium (6al4v) sandwich scales. Any other kit we have seen is stainless, aluminum or brass. We have never seen a Ti bali kit. They are probably out there but we couldn't find any when we researched this kit before production.
The parts are all made to plus/minus 1/2 thousand tolerance.
All the parts and materials are Made in the USA.
The 440c blades are already heat treated and ground with the zen pins installed.
We left the edge at .020" thick so these start as a trainer and then can be final sharpened by the maker.
We use a PB (phosphor bronze) bushing set up along with PB washers we had made just for this kit project.
With a bushing set up you can shorten the bushings to the exact length and get the swing friction to your exact liking with out over tightening the screws. We strongly suggest picking up a KD Pivot Lap kit to get the bushings to the exact length you want. Once you use one, you will be upset you didn't have one earlier.
The round spacers are custom made for this run of balis and have some nice detail for that custom look.
The latch was fitted and drilled tight. This allows you to sand, buff, drill and other wise customize your bali and not have the latch get overly loose.
The OAL is 5 1/8" with a blade that is 4.75" tip to end of the tang.
The minimum tool required is a T6 TORX screwdriver.
(You probably want to use more than that to really fancy it up.)
We will be putting together a video on assembly and customizing these in the next few weeks.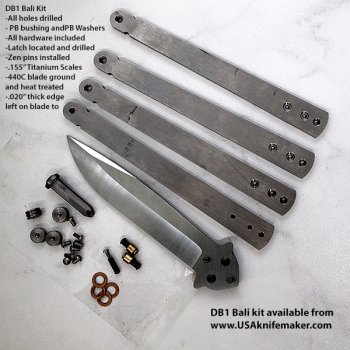 Last edited: