I thought I'd post a few pictures of a fixture I made to drill holes in Wa handles, for use in the dowel assembly method. This is about the third one I've made and each time I've had trouble holding the handle in place and getting a clean straight hole. This fixture seems to solve that problem.
The large angle iron section is 4" x 5/16" and the only piece that I found that, surprisingly, had a 90 degree angle. It's amazing how far off 90 degrees most angle iron is. So after tramming the adjustable drill press table, I aligned a smaller angle iron piece and welded it square. The large angle iron section is heavy and provides mass for stabilization, a big help in minimizing wobble and chatter.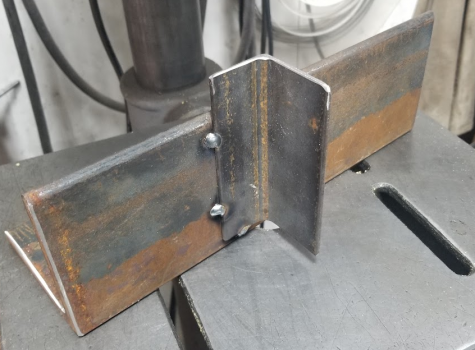 Clamping everything together virtually eliminated and wobble or chatter. The wood is Cocobolo, 1/2" drill.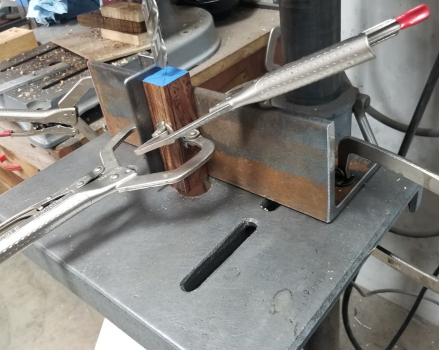 I've found using a conventional metalworking twist drill for this task just doesn't work well, even if I've used multiple drill sizes to get to the final 1/2" hole size.
So, I reground a twist drill incorporating a point, similar to what's used for drilling sheet metal. Here's the re-ground bit end. That pointed tip is what keeps the drill from wandering. The tip was ground on a 2x72 belt, roughing with 120, finishing with 400. It helps to use an offset belt to gently shape the pointed tip.
Here's the key to minimizing run out, getting the point centered.
Grinding the bit for this purpose is simple, just flatten the end, leaving material in the center for a point. Then tilt the bit and grind the flat back to give it a cutting edge, grinding gently & dipping to prevent overheating. Like conventional twist drill bit grinding, having an adequate relief angle to the cutting edge is important. Then carefully shape the tip with a fine belt. Some folks might find using a Dremel offers similar results. I find using the belt grinder provides a better result.