The name isn't what you might have in mind. This is the 5th knife I've completed, and this is my take on a Bushcraft knife/Hunting knife. This is a convex ground knife, and I may have been influenced by Mike Stewarts Bark River Bushcrafter, and Fox River knives just a little. Mike's convex grinds have always been some of my favorites. I made this knife using O1 tool steel, it measures 8.25" in OAL, with a cutting edge of 4.10". I hand sanded the flats to 600 grit, and did a machined belt finish at 600 grit on the bevels. I did get the bevels a little shinier than I had intended, but I'm still pleased with the results. The scales are Desert Ironwood Burl, with Ebony bolsters. I used copper for the pins, lanyard tube, spacers, and liners. There is also one hidden pin in the middle of the Desert Ironwood for some added security. It was quite the learning experience working with the copper. I have to say, Shawn Hatcher's work has been a big influence on me when it comes to the scales. There's a very slight micro bevel going on here. I tried to shape the edge with no real micro bevel, but I'm not sure that would have been the best idea for performance.
One of my customers at work put my name to a vinyl sticker. I thought that was pretty cool of him, I'll probably get some more from him someday when I can get to making more knives.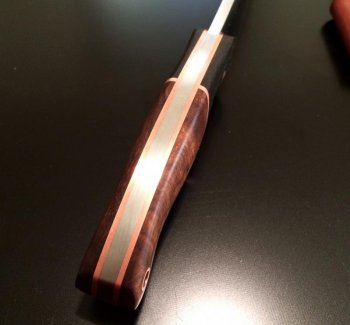 Thanks for looking, comments welcome. Sorry the pictures couldn't be better.
Don