I just finished this up, and don't have a buyer, so figured I would put it up on a couple boards.
This is a nice, stout bowie ground from 5160, differentially tempered heat treatment by Lee Oates/Bearclaw Knives (the back edge is hardened so you can sharpen it if you wish) with a very basic kydex sheath. It has some nice heft and will chop with ease, and while not the fastest blade, it can easily be pressed into service as a very capable fighter.
$250 shipped in US
Blade length: 8"
Overall length: 13 1/4"
Blade width: 1 7/16"
Blade thickness: 5/16" at the guard, no taper until the swedge
Balance point approx 1/2" in front of guard
Handle: OD G10
Hardware: Stainless
Weight: approx 15 oz without sheath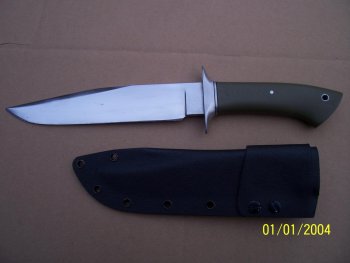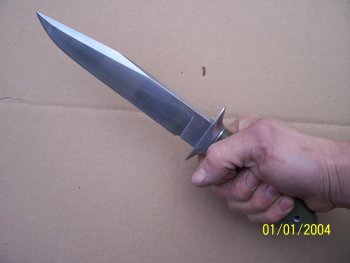 I apologize about the quality of the pictures, my camera skills are not the best (I obviously can't even set the date right). I have more pics I can send if needed.
This knife will also be on other boards and on consignment at a local shop. Best way to reach me is probably email.
firecog@hotmail.com
* You must be 18 years of age and the knife must be legal to own by you and in your municipality of residence. You have the sole responsibility of complying with all LAWS & ORDINANCES within your Municipality/State/Province/Country, and do hereby release me from any & all liability involving this knife once it has been purchased and shipped to you. I reserve the right to refuse sale without explanation.
Last edited: