This is T-304 steel. Same as your average walmart 5$ kitchen knife so as a strong tool it's not very good but I think it turned out ok. I didn't work out every single knick and scratch because it was for practice anyways. Any advice you could give me would be great!
This was a first time plasma cutting accident. It ended warping but I just bend it back.
View attachment 24095
This is what I got after cleaning up the metal with my belt sander. and some files.
View attachment 24096
I used a blue sharpey to paint the blade and make as best scribe lines as I could with a drill bit the same width as the stock.
View attachment 24097
This is the beginning at my first attempt at flat grinding. It started to get bad after this point. But it wasn't too bad for my first time.
View attachment 24098
This is what I got after I finished the first side. It had a bit of a roundedness to it but it's not noticable unless you're looking for it.
View attachment 24099
Here I tried to make one of those spine designs just to see if I could do it.
View attachment 24100
I tried to make it so the grooves got further away as they got further from the blade. I only did the top though.
View attachment 24101
This is where you can kind of see the roundness of the blade but it wasn't half bad. I'd say it's my best one.
View attachment 24102
Here I'm trying to add the whole mirror finish look for the first time. This is also the first time i'm not using home depot mild steel
Thank you junk yard.
View attachment 24103
Right here is what I made the handle of. Since I don't have a bandsaw and no good woods I thought something natural would be nice so I took a nice chunk of branch form a log I had in my back yard and used as much of the heartwood as I could.
View attachment 24104
Here is the knife after I epoxied the wood and rounded it out a bit and drilled the holes for the pins.
View attachment 24105
Because the pins were such a tight fit I tried to force them through (bad idea) and it chipped of a bit of the wood so I missed saw dust from this wood and some epoxy and filled in the gaps.
View attachment 24106
These a few pictures of the finished knife after polishing and adding some Feed n Wax to the handle and I used mild steel pins since Brass is too expensive for me.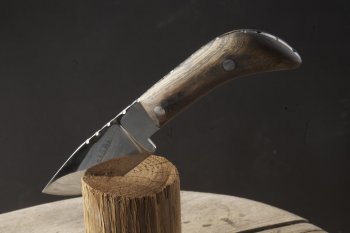 So these are a few steps of the process. I was too focused to remember to take more.
Please give me your advice.
Thank you- Pedro G.