Well I finally got off my more than ample backside and made my first slip joint.A special thanks to Johnny Roberts for putting up with all my inane questions.:biggrin:
Well here it is. A shadow pattern saddle horn trapper.
Blade and backspring 3/32" ATS 34. .032 Stainless liners and .090 G10 scales which makes it only 5/16" thick.Blade sits dead center and the back spring is within .010 in all three positions not bad for a line on a board for set up.Gotta make a dial indiacator jig.
Thanks for looking and all comments are welcome on how I can do better.
Stan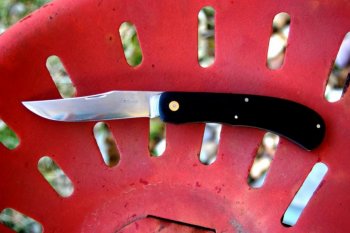 Last edited: