Hello all. I'm not sure if this is the proper forum, so please move if needed.
My sister asked me to make a knife for a chef friend of hers in appreciation for him donating food for a fundraiser for a dog rescue she volunteers at. When I talked with him, he said he wanted a butchers knife to break down turkeys, and he gave me some specific dimensions he was looking for. He did say he's never seen a knife like what he's asking for. Anyway, I've finished it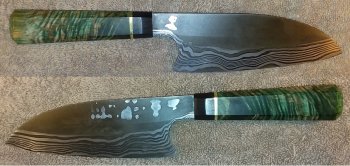 and before sending it off to him I thought I'd do some testing because I'm afraid the I made the edge a bit thin. So I got a whole chicken and today I destroyed it (the chicken
), cutting through the bones, wedging the blade between joints to pop them open and torquing the edge against the cutting board while doing this. The edge seemed to hold up pretty well, was still shaving hairs off my arm after cleaning, but there are 2 spots where the edge deflected a little as shown in the pics. The yellow circle is the same spot on opposite sides of the blade.
It's my understanding that this is what butchers use a steel for, but are deflections like this the acceptable norm when chopping through bones? Should I send this off for him to use? My plan if I do is to ask him to let me know if he wants a heavier blade edge and I will make him another one. This is a gift, so he's not paying me for it, but I don't want to send off something that isn't suited for it's purpose.
Thanks.