Hello all,
Been a long time since I've been hanging out here.
I've gotten a few knives done in the time I've been gone. They have mostly been a tactical fighter style I came up with. I have given these away to a few friends and family who are in the military and one is in Afghanistan with a friend of mine. I'm kind of proud to have one of my knives over there. Here's a quick pic of one of those. (Sorry for the crappy cell phone pics)
Now I'm working on one for my daughter that I thought I'd do a WIP on. The reason for the WIP is this is being made from some damascus that I won here quite a while back. Life got in the way like it does and knives got put on hold a bit. Anyway, the damascus is from Fred Rowe and I just want to thank both him and Knifedogs for the giveaway.
So this is going to be something that I haven't done before. It's going to be a hidden tang with Sanbar Stag handle. I've never done a hidden tang or worked with stag so bear with me through this build.
The design is going to be a skinner with a hollow grind. Here is the drawing I came up with.
So after drawing that up, I took the billet out to my grinder and just ground the surfaces to get the little bit of rust off that had built up on it from sitting so long and to flatten everything out. After that I cut the blade design out of the paper and using a glue stick I glued that to the metal. Then I took it to the band saw and cut out the rough shape and then finished the profile out on the grinder. Nothing new here I suppose. Here's the profile of the knife after all that.
Next thing I did is I used the bubble jig guide that I also won in that same contest here and used it as a file guide to square up the ricasso. This part was done by hand with a file.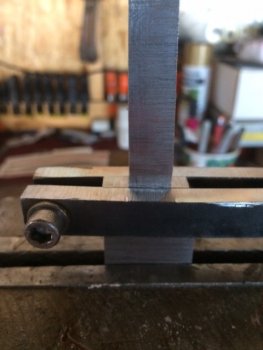 After that I just kept the bubble jig guide where it was since it was square to the blade already and used that as a guide for my plunge cut. Here's the hollow grind that I did on it.
That's where it sits right now. That is ground to 60 grit. I will take it to 120 before HT.
My plan is to also include a butt cap on this knife so I am probably going to attach some sort of threaded rod to the end of the tang and drill and tap the inside of the butt cap. At least that's the plan right now.
Next steps will be getting the grind down to 120 grit, getting the handle cut down to the right size, and attaching the threaded rod. I will wait to build the guard and spacers until after HT.
Feel free to throw out any ideas or things for me to watch out for while I work through this.
I will update the thread as I go along with the build.